I began writing this series of posts on April 1st, 2021 to celebrate DrupalFest, Drupal's 20th year. When I started, I was not sure I would be able to write something every day. For one thing, April would not have been the best time for me considering my personal challenges. I didn't even think of doing anything until the very last minute (I am used to that). Second, I didn't know what I would write about for 30 days!
At the end of April, I am happy I did this. It was hard, frustratingly hard, but I am glad I did this. Every evening at around 10 PM when I sat down to write, I was wishing I had not picked this writing challenge. At midnight, once the article was published and shared, I was happy that it was over and I only had to worry next on the next day. That is how I did this–a day at a time.
The only planning I did was open up a spreadsheet for everyone to contribute ideas and that was very successful. As of this writing, there are 34 ideas contributed by several people and this was my source of ideas. Of course, I couldn't write about everything on the list. I don't feel I could have done a good job writing about just about anything. And I also had to consider that whatever topic I picked, I should be able to finish it in an hour or two. That was the most time I had in almost all cases and so I couldn't write about some of the topics I wanted to as they would have taken longer.
Some stats
This is the fun part, I suppose. I wrote 30 posts, one for each day of the month, including this one but not counting the introductory post. In these 30 posts, I published 28,820 words which work out to 961 words per post on average. The longest post was my advice to my younger self which has 1,631 words. Who knew I had so much advice to give?! My shortest post was on tracking Drupal contributions with 558 words and I suppose I could let the links do all the talking there.
The latest time I published an article was 11:59 PM. In fact, I did that quite often. I remember when I clicked "Publish" at 11:59:55 PM and it was midnight before the page reloaded. Fortunately, the time was correctly set. I published 8 posts at 11:59 PM and 18 posts at 11:45 PM or later. In fact, I only published 4 posts before 11 PM (this one included). The earliest I published a post was 9:42 PM, not counting this one which was published at 6:53 PM.
I couldn't measure the duration of each post but I recall that the quickest I have written a post (from idea to publishing) was about 40 minutes. As for the longest, I don't remember but I don't think I got more than 2-3 hours for any of my posts.
What did I write about?
I maintained a spreadsheet for ideas and the list of posts that I published. I updated that sheet with the stats I mentioned above and tried to classify them into a weak category. The ideas kept coming in the whole month and I am grateful for them. There were 34 ideas listed in total. I didn't track names but I did scratch out topics after I wrote about them. In many cases, I wrote about topics outside the ideas list as well. Basically, I wrote what I felt about writing each day.
Out of the 30 posts I wrote, I classified 8 posts as related to community, 9 posts were more like essays and reflections, and 13 posts were technical. Some of the topics were actually a series of posts that I split up in the interest of time and length. This was interesting to me because I felt that I wrote more about community than technical posts.
Grammarly
I have used Grammarly for a long time and all my statistics jumped this month. The first week of April was reported at productivity higher than 89% of other users and vocabulary higher than 94% other (this was already a big jump). The last report I received on 25th April showed productivity higher than 96% users and vocabulary higher than 98%. I have never seen such stats before.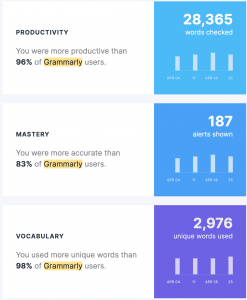 Recognition
I am deeply grateful for the recognition I have received on social media and at work. I was happy every time I saw that Kristen Pol was the first person to like my tweets or LinkedIn posts. This A-Drupal-A-Day idea during DrupalFest was hers in the first place. I am also grateful for the support I received at work, particularly from Ankur Gupta, our CEO, who mentioned these articles often and encouraged me to keep going. Many others at work constantly referred to these posts and that encouraged me to keep going. Thank you, Pierina, Kunal, Michael, Mridulla, and others I might have missed.
On social media, my first surprise was when Dries tweeted about this.
Loving @hussainweb's blogging spree! Check it out and subscribe at https://t.co/JmesPYbSfy.

— Dries Buytaert (@Dries) April 7, 2021
Some of the other tweets from Jaydeep Kandari, Rakesh James, Stephen Cross, James Williams, and others kept me going.
New #DrupalFest post by @hussainweb
A must-read for new devs. 👏
My advice to my younger self (and to new Drupal developers) https://t.co/qOTTzt3wKY

— जयदीप सिंह कण्डारी (@JayKandari) April 6, 2021
Those who working Drupal less than 5 years this article is a must-read one. Thanks to my dear friend @hussainweb #DrupalFest #drupalthanks 💙💙💙 https://t.co/iMdj1d06fK

— Rakesh James (@RAKESH_JAMES) April 7, 2021
@hussainweb Loving the posts!

— Stephen Cross (@stephencross) April 13, 2021
Thanks for all these articles, I almost always find your articulation & perspective very interesting on Drupal matters. Looking forward to your concrete examples of what you've referred to in this article!

— James Williams (@anotherjames) April 21, 2021
Drupal bloggers are getting schooled the past couple of weeks by the torrid pace and excellent quality of @hussainweb's posts during #drupalfest!

Quality Sunday reading: https://t.co/5Wtv9stNDO

— ultimike (@ultimike) April 25, 2021
Agreed, @hussainweb has put together some *excellent* materials for you to learn from and share! https://t.co/qX1gcWNj4G

— Damien McKenna (@DamienMcKenna) April 25, 2021
Some good thoughts about the #Drupal job market from @hussainweb. https://t.co/77C3t8u5ff

— Drupalize.Me (@drupalizeme) April 29, 2021
I am also very grateful for the comments and reactions on LinkedIn to these posts. I could not believe how well these were received.
What's next?
Now that I don't have to come up with an idea and a post about that every day, I can focus on work that I couldn't pick up. After the reaction to this blog, the first thing I will be doing is working on a new design for both my blogs and moving them to Drupal. I have planned to do a video series about it as well. I will also be looking at the open issues in my modules such as preloader, do_username, and other projects such as contrib-tracker and yakht. After this series, I will be sure to keep writing about all of that, of course.
But all of this will have to wait until Ramadan is over. I will be taking a break from work and other activities until mid-May when Ramadan is over. After that, see you again in Drupal space.
If you've read this far, thank you! I am deeply grateful for your support for this series of posts and this is what kept me going every day.