As I was leaving home for the park, I wondered aloud what topic should I write about today. My daughters chimed in write about your three Drupal kids. It was an off-the-hand comment that portrayed how often they think about Drupal (more than me). But I thought, why not write about this–write about the people and how Drupal impacts them.
Another story: As I was leaving home, I checked my feed and saw that the company behind DDEV was shutting down. It's really strange to read this news during DrupalCon about an organization beloved by so many in the community. As the tweet says "with a heavy heart", I can't help but feel pangs of sadness in my own heart. As I see people replying to that tweet with hugs and support, I am reminded of the people that make this community.
These two are two very different stories but they have one thing in common–people. I previously said that Drupal has no reason to exist if not for the people it impacts. I strongly believe it and because of this, I find a tweet like this highly motivating.
Interesting #Drupal fact: 3/4 vaccine manufacturers use Drupal for their websites. This is the power of open source! <3

— webchick – webchick at 🐘 social (@webchick) April 14, 2021
I have seen similar tweets of importance at many other times and each time, my motivation rebuilds a little. The rest of the time, just attending a Drupal meetup, camp, or con does the trick. Coming face to face with a variety of people who are using Drupal in diverse ways is just what I have needed. I have written more about this previously in my post on the magic of Drupal events.
To my daughters, Drupal is just an idea. They don't understand that Drupal is a CMS and my little one doesn't even understand the concept of software, yet, the idea of Drupal stays with them in everything that they do. From birthday cards to bookmarks to landscape drawings, you would often find a Druplicon in there. This is a birthday card for me from a while back, for example. But you could even see it elsewhere. For example, they twisted a pipe-cleaner into a Druplicon shape and put it over the crib for my newest daughter.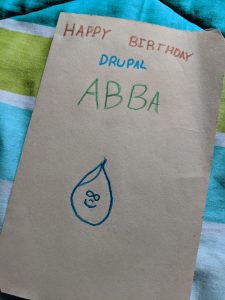 All it took for the idea to take hold was me attending a few Drupal meetups along with them, a couple of camps, and bringing back a lot of swags from DrupalCons and other events.
This, in my opinion, was reflected in today's DriesNote as well. I am not attending this year's DrupalCon North America due to my personal schedule so this is based on what I have heard from other people's tweets and summaries. The message was to build tools to enable the site-builder. Looking back, Drupal's low-code approach is the reason I got started with Drupal. Yes, it was the stellar code and amazing community that made me use Drupal again and again until I used it for everything I did. But the reason I used Drupal at first was that I didn't have the time to write a CMS to build a site.
Enabling the site-builder to build what they want is the way, in my mind, to get Drupal to its roots. There has been a lot of criticism about how Drupal has become difficult to use. I agree with them but I am also happy with the introduction of composer, Symfony, and more structured code everywhere. Now that we have all of this in Drupal, our priority should be to make Drupal easier for people again.
What's the point I'm making? I seem to be making a lot of points and I guess that's fine. All the events of today prompted me to write this. Even if it is not a coherent one, this is my message for you today.