This month's Drupal meetup was held at 91Springboard in Koramangala. We are back after a long time and that's thanks to 91Springboard for providing us with the venue. Snacks in the meetup and lunch after the meetup were courtesy of Axelerant.
We had a total of 36 attendees from various companies in Bangalore. Here is a chart that shows the distribution of various attendees by their company. Notice that SpecBee has the largest participation in this meetup with 14 of their team members attending the meetup.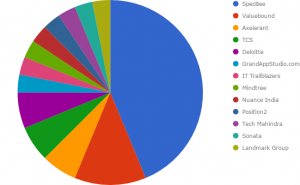 We started the day at 10 AM with Taher introducing the meetup, schedule, and talking about some of the happenings in the Drupal community. He talked about some of the new features in Drupal 8.6, initiatives that are going to be stable soon, and some of the events like Drupal Europe and BADCamp.
Sessions
The first session of the day was on improving the developer workflow presented by Malabya. Malabya talked about various aspects of development including setting up the development environment with DrupalVM (Vagrant) or Lando (Docker), managing codebase, version control, dependency management with composer, deployment, and many other best practices around development (not just Drupal development, but even general programming).
This was followed by a talk about how contributing to Drupal improves your career by Parvateesam. Parvateesam talked about various kinds of contribution, the benefits of contributing particularly to your career, and shared his own journey contributing to Drupal and speaking at various events. Everyone was impressed with how he started off as a speaker at DrupalCamp Hyderabad a couple of years back and now getting selected to speak at Drupal Dev Days and volunteering at Drupal Europe. After this talk, several contributors present spoke about their own journeys.
We took a break after this session for coffee and snacks courtesy of 91Springboard and Axelerant. This also included a brief opportunity to network.
The third talk of the day was a lightning talk for Rollout by Napoleon Arouldas. Napoleon described the typical problems faced during deploying code and how we can make the whole process better by using a tool like Rollout. He also handed out coupon for attendees at the meetup to try out Rollout for free.
The last topic of the day was a discussion facilitated by myself for Drupal Governance initiative. After a very fruitful discussion and walking through a group interview, we ended the day with pizzas courtesy of Axelerant.
Drupal Meetup
This was one of the better-organised meetups thanks to the efforts of the organising team, especially Taher Jodhpurwala. It was only made better thanks to generous support of 91Springboard for the venue and Axelerant for snacks and lunch. You can find more photos from the venue below, or just watch the video to fly through the photos.
If you prefer just the photos, here they are:
I'd like to thank the organisers, sponsors, and attendees for making this meetup a success. See you all at the end of August for our next meetup.