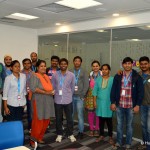 Drupal 8 Module Upgrade Sprint in Bangalore – Dec 20, 2014
Last weekend, Bangalore's Drupal community came together for a code sprint to upgrade modules to Drupal 8. The sprint was held at Time Inc office in RMZ Ecoworld, Bellandur, Bangalore and saw about 15 people attend it (and one participating remotely). We started at around 11 AM and most people stayed on till about 4 PM.
Time Inc graciously hosted this event and organised all requirements. We started off at 11 AM with a quick introduction to Module Upgrade Sprint, Drupal Ladder and a quick overview of what is changed in Drupal 8 and where to get help. We also looked at the video of webchick explaining how to use Drupal Module Upgrader. Here's the video: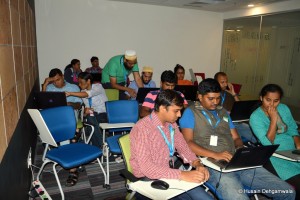 Each participant then picked a module from our list and started working. It was a great experience seeing everyone helping each other in getting the module to work. We made some progress to some of the modules and pushed it back and for others, it was a helpful experience to enter Drupal 8.
We hope even greater results from future sprints. We are already preparing for the next sprint on Jan 17, 2015 which is a part of global sprint for Drupal 8. See you there!